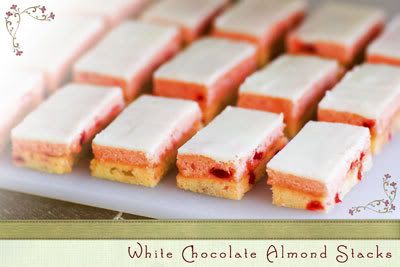 Elements by Lie Fhung at ztampf.com
Recipe from "Family Circle" Magazine (Nov. 29, 2006 issue). Originally the recipe calls for green food coloring and green glace cherries but I replaced it with red food coloring and maraschino cherries.
Makes: 30 bars. Prep: 20 minutes. REFRIGERATE: overnight.
12 ounces white chocolate
1 cup (2 sticks) unsalted butter, at room temperature
1 cup sugar
1/2 t salt
1/2 t almond extract
6 large egs
1 1/4 c all-purpose flour
1/2 maraschino cherries, chopped
red liquid food coloring
1/4 c apple jelly
3 T heavy cream
1. Line two 13 x 9 x 2 inch baking pans with nonstick foil, extending 2 inches over short ends.
2. Break up chocolate; in small bowl, microwave 6 ounces of the chocolate on HIGH for 1 minute; stir. Continue microwaving in 15-seconds intervals, stirring until melted.
3. Heat oven to 350 F. In large bowl, beat together butter, sugar, salt and almond extract until smooth. Add eggs, one at a time, beating well after each addition. On low speed, beat in flour until blended; you should have about 5 cups batter. Stir in melted white chocolate untl smooth, then chopped cherries. Spread half the batter into one pan. Tint remaining batter with food coloring and evenly spread into second pan.
4. Bake layers at 350 F for 18 minutes, until toothpick inserted in the centers comes out clean. Transfer pans to wire racks; cool 10 minutes. Turn cakes out onto racks; remove foil; cool completely.
5. Place white layer on a baking sheet. Spread with apple jelly. Top with red layer. Cover with plastic wrap and place a baking sheet on top. Weigh down with cans to compress. Refrigerate overnight.
6. In small bowl, microwave remaining 6 ounces white chocolate and cream on HIGH for 1 minute; stir until melted. Remove wrap from layers; spread top with white chocolate mixture. Refrigerate, uncovered, 15 minutes. Trim edges. Cut crosswise in 10 strips, each about 1 inch wide. Cut each strip crosswise into thirds for a total of thirty 2.5 x 1-inch bars.