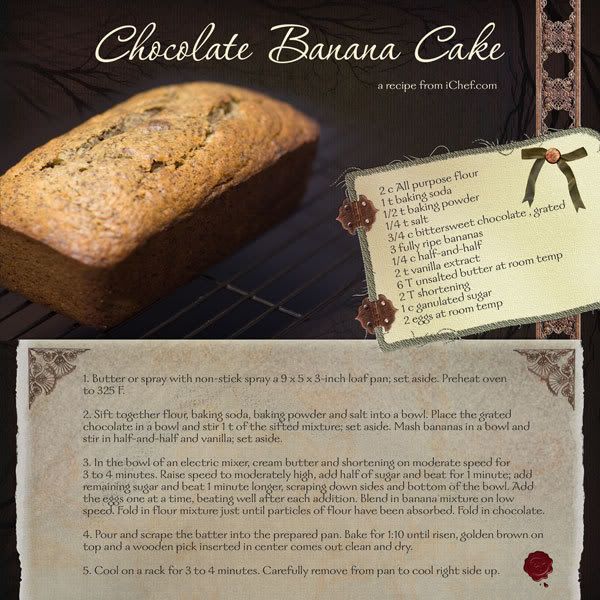 Papers and elements by Lie Fhung at ztampf.com
Recipe (from iChef.com):
2 c All purpose flour
1 t baking soda
1/2 t baking powder
1/4 t salt
3/4 c bittersweet chocolate (I used four squares of valrhona bittersweet bar), grated
3 fully ripe bananas
1/4 c half-and-half
2 t vanilla extract
6 T unsalted butter at room temperature
2 T shortening
1 c ganulated sugar
2 eggs at room temperature
1. Butter or spray with non-stick spray a 9 x 5 x 3-inch loaf pan; set aside. Preheat oven to 325 F.
2. Sift together flour, baking soda, baking powder and salt into a bowl. Place the grated chocolate in a bowl and stir 1 t of the sifted mixture; set aside. Mash bananas in a bowl and stir in half-and-half and vanilla; set aside.
3. In the bowl of an electric mixer, cream butter and shortening on moderate speed for 3 to 4 minutes. Raise speed to moderately high, add half of sugar and beat for 1 minute; add remaining sugar and beat 1 minute longer, scraping down sides and bottom of the bowl. Add the eggs one at a time, beating well after each addition. Blend in banana mixture on low speed. Fold in flour mixture just until particles of flour have been absorbed. Fold in chocolate.
4. Pour and scrape the batter into the prepared pan. Bake for 1:10 until risen, golden brown on top and a wooden pick inserted in center comes out clean and dry.
5. Cool on a rack for 3 to 4 minutes. Carefully remove from pan to cool right side up.