I made this after school today. Anak2 ikut bantuin. I put it in the oven pas mereka nap. Sesudah bangun, ini jadi jajan sore mereka. Texture nya empuk, rasanya nano-nano (manis, seger, asem, gurih).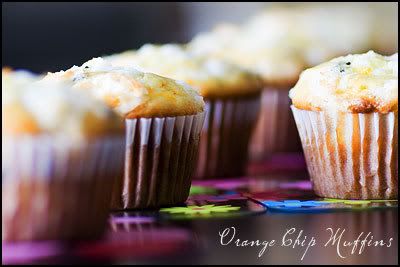 Resep dari majalah Family Circle (edisi 29 Nov. 2006)
Makes: 24 muffins
Prep: 15 minutes
Bake: at 375 F for 20 minutes
3 cups flour
1 T baking powder
1 t baking soda
3/4 t salt
1 c sugar
1 c orange juice
2/3 c vegetable oil
2 eggs
1 can (11 ounces) mandarin oranges, drained and coarsely chopped
2/3 c mini chocolate chips
Topping:
1 cup shredded coconut
1/3 cup sugar
2 T butter, melted
1. Heat oven to 375F. Place 24 paper or foil liner into 2 muffin pans.
2. In a large bowl, whisk flour, baking powder, baking soda and salt. Set aside.
3. In another large bowl, beat together sugar, orange juice, oil and eggs. On low, beat in the flour mixture until combined. Fold in the oranges and chocolate chips. Spoon batter equally into the lined muffin pans.
4. Topping: In a small bowl, stir together coconut, sugar and melted butter. Sprinkle evenly over top of the muffins.
5. Bake for 20 minutes.